Bake Sale for Beka – Benefitting the Crohns and Colitis Foundation of America
*The Bake Sale is now closed! But check out the Video Reveal of what we raised!! Thank you to EVERYONE for their contributions and their donations to the Bake Sale for Beka*
—-
Today's the day friends! Get your bidding fingers ready all in the name of Crohn's and Colitis. The next two days here on Country Cleaver, we will be having a bake sale benefitting the Crohn's and Colitis Foundation of America.
You've had the chance to get to know Beka, my best friend, other-other soul mate, and sufferer of Crohn's. Her resilience and tenacity while facing this disease is admirable. It's more than that, even.
Because of all of the qualities that Beka possess, 25 bloggers, numerous generous companies, and myself are all putting up baked goods and loot for auction to help Beka raise the money she needs to run her first half marathon – and raise money for Crohn's research and to help send kids suffering with Crohn's and colitis to camp at Camp Oasis.
A cure can be found and we can ensure kids don't miss out on the most fundamental experiences of being kids. Look below for all the treats, goodies and unbelievable swag.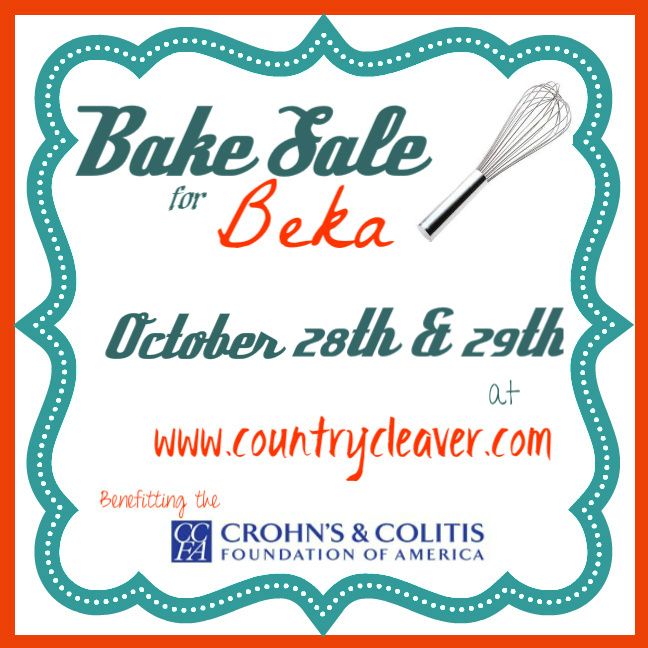 All the Details:
How to Bid: Send your bids to me, Megan, via e-mail at wannabeacountrycleaver@yahoo.com with the subject line of your e-mail being the name of the item you are bidding on.
All bids will be updated as soon as I get them. So – make sure you check back OFTEN to see the most current bids – and Bid again and again to make sure you get the loot that you want! It's all tasty.
Bids: Bids on all items are in $5 increments. IE – All bids must end in a "0" or "5".  All items from the companies will have minimum bids set and listed next to each item. And bid often! The bidding wars is what makes this FUN!
Hours of Bake Sale: October 28th-29th -> 7am PST – 8pm PST
Shipping Limitations: Unfortunately, all items will be limited to residents of the US. Tragically sorry to the international friends!
How to Pay for your Item: After the auction/bake sale is over, the winning participants will be e-mailed and given the details on where to pay. After payment for the baked goods or items has been received, you will be shipped your baked good or product by the appropriate blogger or company. Easy peasy!
Now for all the LOOT!!
Baked Goods:
Megan Keno – Country Cleaver – Pistachio Shortbread with Chocolate Ganache
Current Bid: $ 65 <- Paula F. 
Meredith – In Sock Monkey Slippers – Pecan Pralines
Current Bid: $ 35 <- Paula F.
Julie Chiou – Table for Two Blog – Pumpkin Peanut Butter Cookies
Current Bid: $  50 <- Julie B.  
Linda – The Urban Mrs. – Passion Fruit and Chili Palmiers
Current Bid: $40 <- Suzanne
 Cassie Laemmli – Bake Your Day – Chocolate chocolate Cookies
Current Bid – $ 35 <- Julie A.
Chung-Ah Ree – Damn Delicious – Nutella Stuffed Cinnamon Sugar Muffins
 Current Bid: $  45 <- Nawzer
Jeanne Hunt – Inside Nana Bread's Head – Dark Chocolate Cherry Pecan Cookies
Current Bid: $60 <- Cindy C.
 Brandy Clabaugh – Nutmeg Nanny's – Coconut Oil Poundcake with Almonds and Lime 
Current Bid: $ 45 <- Paula F. 
Kirsten Kubert – Comfortably Domestic – Chipotle Chocolate Toffee
Current Bid: $ 50 <- Melenie L.
Lauren Grier – Climbing Grier Mountain – Sugar Crusted Ginger Cookies
Current Bid: $ 40 <- Geri W.
Amy – Surly Kitchen – White Chocolate Macadamia Cookies
Current Bid: $ 40 <- Gary S.
Lindsay Livingston – The Lean Green Bean – Pumpkin Oatmeal Bars
Curent Bid: $ 45 <- Liz D.C.
Allison Powell – Decadent Philistines Take Over the World – Olive Cheddar Biscuits (At least 2 dozen biscuits or to fill the tin)
Current Bid: $ 40 <- Julie B.
Ali Ebright – Gimme Some Oven – Salted Caramel Chocolate Cookies
 Current Bid: $ 45 <- Lindsey T.
Melissa Coleman – The Faux Martha – Coconut Maple Granola
Current Bid: $ 25 <- Suzy McN.
Haley Carrol – The Girly Girl Cooks – Pig Out Cookies
Current Bid: $ 25 <- Katie M.
Erin – Dinners, Dishes and Desserts – Peanut Butter Bars
Current Bid: $ 35 <- Rachel G.
Heather Scholten – Farmgirl Gourmet – Emeril's Peanut Butter Wafer Cookies
Current Bid: $ 40 <- Annelies Z.
Laurie McNamara – Simply Scratch – Double Dark Chocolate Merlot Cookies
Current Bid: $ 60 <- Betsy S.
Mal Souza – The Chic Geek – Sugar Cookies
Current Bid: $ 35 <- JB
Carrie Burrill – Bakeaholic Mama – Brown Butter Oatmeal Pecan Chocolate Bars
 Current Bid: $ 45 <- Nawzer
Kristen Doyle – Dine and Dish – Neapolitan Cupcakes (1 dozen)
Current Bid: $ 30 <- Stacey R.
Tiffany Dos Santos – Garlic and Salt – Sweet Potato Chocolate Cookies
Current Bid: $30 <- Kirsten K.
Wanda Lopez – My Sweet Zepol – Pumpkin Spice Scones
 Current bid: $ 35 <- Amy B.
 Katie Burkhart – The Hill Country Cook – Mud Hen Bars
 Current Bid: $ 50 <- Lorie & Bryan F.
Megan Keno – Country Cleaver – Death by Chocolate Cookies (2 Dozen)
Current Bid: $ 45 <- Britton D. 
PRODUCTS FOR BID:
Jackie Dodd – Food Photography Props – Food Blogger Starter Kit
Current Bid: $ 70 <- Alice C.
Star Fine Foods – Mediterranean Variety Basket – includes Olive Oils, Marinated Artichokes, Olives, Infused Oils, Balsamic Vinegars and So Much More!
Minimum Bid: $30
Current Bid: $ 85 <- Julie B.
Basket includes: 1 bottle Golden Balsamic Vinegar, 1 bottle Rosemary Olive Oil, 1 bottle Red Wine Vinegar, 1 bottle Spanish Manzanillas, 1 bottle Star Original Olive oil, 1 bottle Star California Olive Oil, 1 bottle Extra Light Olive Oil, 1 jar Spanish Queen Olives, 1 bottle Star Balsamic of Modena, 1 bottle Lemon infused Olive Oil, 1 Basil Olive Pouch, 1 jar Spanish Manzanillas, 1 jar Marinated Artichoke Hearts, 1 jar Green Asparagus, 1 jar Sun Dried Tomatoes
Chobani – 32 ounce Chobani Variety Pack, 6 pack – Healthify your baking this season by adding Chobani!
 Minimum Bid: $20
Current Bid: $ 25 <- Kendra
Variety Pack includes: 2 32-ounce 0% Plain Chobani, 2 32-ounce 0% Vanilla Chobani, 1 32-ounce 2% Plain Chobani, 1 32-0unce 2% Vanilla Chobani
LeCreuset – 4 ½ quart Round Dutch Oven in Cassis – Estimated Retail Value $250
Minimum Bid: $75
Current Bid: $ 200 <- Jackie C.
KerryGold USA – 1 Month Supply of Cheese and Butter Basket
Includes: 2 wedges Dubliner cheese, 2 wedges Swiss Cheese, 2 wedges Blarney Castle Cheese, 2 wedges Reserve Cheddar, 2 wedges Red Leicester Cheese, 2 packs Pure Irish Butter, 2 packs Pure Unsalted Butter, 2 packs Garlic and Herb Butter, 2 packs Softer Butter
Minimum Bid: $40
Current Bid: $150 <- Melenie L.
America's Test Kitchen – 1 copy of the Quick Family Cookbook
Minimum Bid: $15
Current Bid: $ 40 <- Katie B.
America's Test Kitchen – Cook's Country Complete Series Cookbook
Minimum Bid: $15
Current Bid: $ 45 <- Nettie M.
 So bid away guys! And please be sure to go to stop by all of the lovely bloggers and generous companies and send them your thanks and giant imaginary hugs. This wouldn't be possible without them and I am continually moved by the love and generosity of the blogging community. Thank you. Thank you. THANK YOU.